Our mission is to create industry leading personal trainers and fitness professionals globally by raising the standards of industry education through science and innovation, helping coaches become the best versions of themselves that they can possibly be.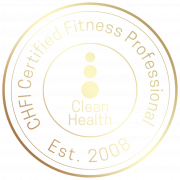 Since 2008, Clean Health Fitness Institute (CHFI) has been regarded as one of Australia's top fitness industry educators and personal training organizations.
Throughout our journey we've developed a reputation as pioneers in the health and fitness industry worldwide!
We've certified over 30,000 personal trainers and fitness professionals in over 35 countries, both at our live events and more recently (since 2019), through our online e-learning platform.
 CHFI was founded by personal trainer, industry legend, and company Managing Director Daine McDonald, as a personal training organization focused on using the science of lifestyle, nutrition, and training to get results. 
 Our first high-end training studio was opened in 2012. Over the next five years Daine and his team of industry–leading coaches facilitated over 100,000 training sessions and developed a global reputation for results and excellence.  
Between 2008-2019, CHFI has facilitated over 250,000 personal training sessions, primarily in person but also online. 
 Over the years, we have been featured in numerous media publications and TV shows including the Sydney Morning Herald, GQ Magazine, Men's Muscle & Health, Men's Fitness, Australian Women's Health & Fitness, Oxygen Magazine, and The Australian Biggest Loser Club.  
 We've also appeared in other publications and media channels such as Channel 9 with Kerri Anne, Fitness First Magazine and Nine MSN's Health and Well-Being.  
 Our experts have presented at some of the most significant health and fitness events in the world, including: FILEX, MEFIT Summit, and the Australian Fitness Expo.
Today, CHFI is one of the world's leading educators of fitness professionals and is 100% online as a digital education business.  
 We stay true to our legacy of our course content being created by the trainers for the trainers. We take great pride in teaching the latest scientifically based industry education that uses real world 'in the trenches' experience to build world-class personal trainers all around the world! 
This is our way. The CHFI way. 
 To evolve, you must learn. To grow you must evolve. 
 We constantly push the boundaries of health and fitness to ensure our tribe of students around the world are able to become the best version of themselves that they can possibly be! 
Our values are simple, to the point, and with purpose. Quite simply, they are…